Skip Navigation
Website Accessibility
What Difference Does Thread Make?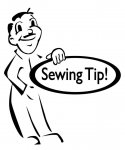 When it comes to a successful sewing experience, the most important things are your sewing machine and the fabric – but the thread you use is just as important. There really is a visible difference between "cheap" thread and "good" thread – one that makes up for the difference in cost many times over. Think about it – you bought a sewing machine that may have cost thousands of dollars, you bought fabric that might cost over $12 a yard, and you're worried about spending $2.99 on a decent spool of thread??
The cheaper threads are usually made from the cheapest "scrap" fibers, rather than the smoother, better quality long fibers found in the better threads. The difference is easily visible when you look at the threads – the el-cheapo special thread is much more uneven, with thick spots & thin spots, fuzzy fibers, and large degrees of inconsistency in thickness.
"So What?" you say? You wouldn't buy an expensive automobile and expect it to perform at its best when you feed it the cheapest gas you can find, so why would you expect you expensive sewing machine to sew perfectly with imperfect thread? Fuzzy thread can cause poor stitching, poor or inconsistent tension (you can even see differences from one stitch to the next), and can leave more lint inside your sewing machine that quality thread does. It's even more noticeable with dark colors like black and navy blue! You can actually see the thick and thin spots of these threads caused by the fibers and the build up of dye.
Quality thread gives a better looking, more consistent stitch, leaves less lint, breaks less often, and holds up longer! Next time you're in the store, ask to see our microscopic photos of some of the more common threads – you won't believe it! Better yet, let me show you on YOUR machine how different the stitch looks just by changing threads!
So, you may save a few pennies on the thread, but if your fabric is good and your project is important, why ruin it with bad thread? Besides, you'll save money on having your machine cleaned more often!